Inner Space
Gawd. You spend an afternoon labouring over a detailed written description of what Bertha was like on the inside: then you discover you could have saved yourself the trouble because a long-lost photo shows up…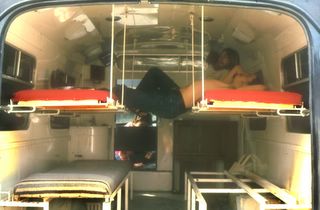 Inner Space

You see? This is why we should take photographs of our lives. Because memory fails us.
Not forgetting that it also behoves us to describe what it felt like to be inside the memories. Otherwise the photograph fails us too.
Actually I'm thinking I didn't do that bad a job. Seems I was wrong about the felt covering the foam. It looks more like somebody's old military blankets from here. In grey and red, no less. Such colour sense. And I missed those cupboards too – looks like we even had somewhere to store our food.
This must be around the halfway stage of refurbishment. You can tell because there are still no
tapestry curtains
.
The bloke with the goatee beard demonstrating how not to fall asleep in a Bedford ambulance is Paul.
The bloke with the beard behind him who looks like Pat is in fact Martin of the waxed moustache.
The young lady peering coquettishly over the front bench seat is a bit of a mystery. My best hunch is Yaya's on-off girlfriend Sally, who may (
perhaps; possibly; never trust the memory
alone)
be about to play a small but pivotal role in finalising our passenger manifest…